Get Horse Riding Lessons and Trail Riding With The Best!

At Pink Flamingo Stables, we do it all. Without bragging about our 22 years of experience or dedication to providing our guests with an unforgettable experience, we aim to make horseback riding an enjoyable adventure any time of the year.
Located in the beautiful town of Lake Worth, Florida, our premium stables provide an unparalleled experience for both new and seasoned horseback riders. Understanding the importance of customer relationships and work ethic, it is the goal of our horse riding school to prove what makes us stand out as the preferred stable in the area.
With a mission set on providing quality horsemanship instruction to beginner and intermediate riders of all ages and disciplines, it is our pleasure to customize our services to meet the needs of those who ride with us. From a one-time trail ride to horse-showing lessons, we believe in providing riders with something truly magical. Putting our clients first, we go out of our way to ensure that your time at our stables is much more than just a day out of the house. Listening to what you're looking to accomplish while with us, we do whatever it takes to give you a truly unforgettable time, teaching you everything you want to know; even if that's just showing you around while riding through the city's landmarks.
No matter your age, your experience, or your knowledge about horses, our family-owned and operated horse riding school accommodates your needs. We also have experienced instructors that can match you or your child with the perfect horse or pony to lease or own.
We invite you to join the Pink Flamingo family today. We can't wait to get to know you and your family!
---
Meet Our Horses
Tootsie Roll 
15 year old 13.1h Bay Welsh-Quarter Pony Mare
Sweet girl. Owned by Alicia for over 10 years. First horse Alicia trained. Shes perfect for nervous first time riders and small adults. She has carried riders ages 6months old to 96 years old! Tootsie is very comfortable and confident on the trail. Her favorite activities include eating and being pet. She often overeats and has to be separated from her food at night.
Tootsie Roll (2004-2021)- Forever in Our Hearts
---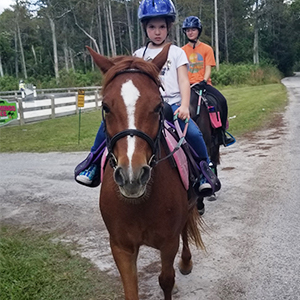 Princess Belle
10 year old 13h chestnut Welsh Pony Mare
She is our shortest horse. She is a sassy and spunky girl who loves attention and often enters the tackroom without permission looking for treats from the fridge. She loves to jump and can clear a 3 foot vertical from a standstill. Princess Belle loves trail rides and cantering in the arena.
---
Olaf
10 year old 14.2h White Arabian Quarter Horse Gelding
We call him a "hony" because he is in between a horse and a pony size-wise. He is super silly and can be found in the paddock taking off all the horses halters or frolicking with Brad, sporty and victory. He also enjoys a good roll in the dirt and never stays clean for long. He has a great jump and his canter is to die for. Dont place anything in front of him while you are tacking up or it is sure to be in his mouth or on the ground!
---
Brad 
20 year old 16.2h Bay Swedish Warmblood Gelding
This big jock loves eating and standing around by the feeder. Dont let his laziness fool you If you arent a beginner rider, brad is a forward show horse who loves dressage and show jumping. He loves to show off his flying lead changes. He is super willing, but always down for taking a break at the gazebo whenever his rider wants. He is a lovable teddy bear who will melt your heart when you meet him.
---
Sporty Boy
21 year old 16.1h Bay Irish Sporthorse Gelding
He is the barn favorite. He is a former A circuit hunter and jumper. With his smooth canter and easy jump, he loves to make riding look easy. He is a very willing boy who loves jumping and flat work. He prefers a light contact. He loves his girlfriend Shiloh.
---
Shiloh 
5 year old 15.1h Paint/Mustang Mare
This sweet girl loves trail riding and can take just about anyone on a leisurely or fast paced stroll. Shilohs canter is smooth and fun. Many love her for her beautiful tri-colored coat. She is learning her way around the arena and enjoys jumping with an experienced rider. She is sensitive and enjoys a rider with good feel and intuition. She was trained by Alicia.
---
Victory
24 year old Bay Belgium Warmblood Gelding
He is our resident senior citizen or "old man" as we call him. A few years ago, we offered him retirement and he kindly refused the offer. He loves walking trail rides and easy strolls in the arena. He likes to tuck into his stall at night all by himself. You wont miss seeing him around the property as he sports his visible black pajamas which keep him from getting cuts and bruises. Watch out though, he loves to beg for treats from visitors.
---
Princess Buttercup 
12 year old 13 hand liver chestnut pony mare is as cute as a button.
She is our stables' housekeeper and loves to be let out to roam free around the property to clean up the breakfasts her sibling horses have failed to finish. She is the perfect trail and lesson mount for adults and children learning to ride. She aims to please, especially if there is a cookie or snack waiting at the end of the ride.
---
Zelly 
17 year old 17.2 hand chestnut gelding.
He is our largest horse. He is our gentleman and gentle giant. He is a semi-retired A circuit hunter jumper horse. As sweet and easy as they come. Zelly always aims to please his rider. He is great for beginners, intermediates, and advanced riders learning some dressage.
---
Tempi 
15 year old 15.3h Chestnut Dutch Warmblood/Thoroughbred Cross Mare
She is elegant, opinionated, and if she likes you she will give you her whole heart. She has a wonderful jump. She is the quintessential hunter, winning classes left and right with her beautiful flying lead changes and ground covering stride. She is Meatball's girlfriend, though we have to keep the two of them separated because no good comes from their enmeshed relationship.
---
Legacy 
4 year old 15 hand buckskin quarter horse mare.
Legacy is a total sweetheart. She is an in your pocket type of horse. She is definitely on the lazier side and enjoys casual trail ride strolls as well as beginner lessons. Intermediate and advanced riders love jumping her. She sometimes gets distracted by the tasty plant or tree that she passes on the trail. She is a goofball but definitely a wonderful choice for the anxious or nervous rider.
---
Mulan 
7 year old 13.1 dark bay pony mare.
She is regal and majestic and is currently in 1
st
 level dressage training. She is eager to please with pep in her step. Her best friend is Tempi. She is a great trail mount for children and adults and she is learning the ropes for riding lessons. She is a favorite choice for birthday parties.
---

Alicia Grace, Owner and English Trainer
---
Our Instructors
You will always be in the best care when at our stables! Come out for a tour and meet our horses! Join them as they share their love for riding!
Our Stables
We always keep our stables in the best condition! Please take a look at our wonderful facility! See our riding arena, wash racks, and stalls!
Our Horses
Our horses are great for beginners as well as experienced riders, whether for long-term horse riding lessons or a single day on the riding trails. See the horses that we offer for use during your lessons.